How many winners? Ten lucky winners.
How do you win? Simply tell me on this post you would like these fantastic books. Easy peasy. I will send the winners Smashwords coupon codes so you get them for free. No information of yours needs to be compromised. Some folks are leery about releasing their email address like Kindle wants, so I think this is a better option. If you want to send me a PM on Facebook, that is okay too.
https://www.facebook.com/blaze.mcrob
I can give you the codes there too. Smashwords has many ebook outlets, including a way to read on Kindle.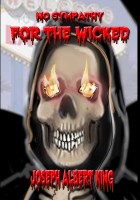 No Sympathy For The Wicked
There's a reason they call Las Vegas "Sin City". There's a reason tourists are reassured "what happens here, stays here." Dark places and shadows are the natural counterpart to bright lights and boundless sunshine. Las Vegas has plenty of both.
* * * *
Search out the link above for other great Blog Hop participants!
Blaze McRob