How many winners? Ten lucky winners.
How do you win? Simply tell me on this post you would like this fantastic book. Easy peasy. I will send the winners Smashwords coupon codes so you get it for free. No information of yours needs to be compromised. Some folks are leery about releasing their email address like Kindle wants, so I think this is a better option. If you want to send me a PM on Facebook, that is okay too.
https://www.facebook.com/blaze.mcrob
I can give you the codes there too. Smashwords has many ebook outlets, including a way to read on Kindle.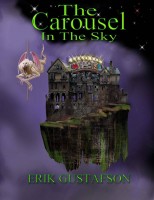 The Carousel In The Sky
Carousels have charmed millions of riders of all ages. Perhaps even you have experienced the magic sitting astride one of those painted mounts, blissfully rotating your cares away. Journey out to the woods and find such a treasure revolving around the roof of a giant mansion. Leave your world for a while...but know that you might not make it back.
* * * *
Search out the link above for other great Blog Hop participants!
Blaze McRob